#Dog #Food #Branding #Companies #Differentiate #Products #Saturated #Market

The dog food market is growing and becoming more and more saturated. According to a 2018 article by Pet Food Processing, the number of pet food brands in the US at the time was 630, with a 71% increase since 2011.
In a market like this, differentiation is essential, and brands must address more niche needs. This article will analyze the branding strategies of five dog food brands from different countries, explain how they differentiate themselves from the competition, and provide some key takeaways from their brand strategy.
Taste of the Wild: "The Diet Nature Intended"
Taste of the Wild is an American brand that sells premium dog food and targets customers worried about the quality of the food they give to their dogs. Therefore, their mission is to make a kibble that satisfies dogs' natural instincts and that is of high quality. Thus, you will not find any grains in these kibbles because dogs don't eat them in the wild.
Through its drawings that represent scenes of wolves in nature, the packaging of Taste of the Wild evokes something we can immediately identify with. Who are the ancestors of our dogs? Wolves. What did they do to survive? Hunt in the wild. Here are some examples of their packaging design: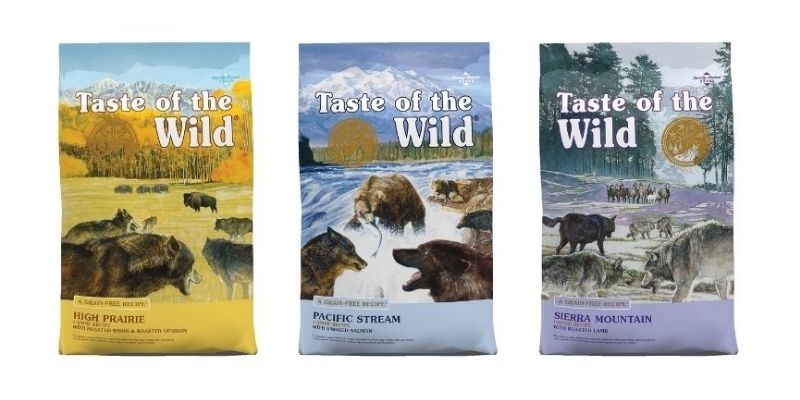 You will also notice that the names of the kibbles allude to natural elements and even give you indications on the type of meat or fish present in the food:
Pacific Stream
High Prairie
Sierra Mountain
Ancient Stream
Rocky Mountain
Key takeaways:
Taste of the Wild positions itself by reinventing dog food that respects the natural instinct of the wild dog
The brand achieves this through its packaging, its name, and even its social networks
They created their own identity by using illustrations of wolves in the wild instead of using generic pictures of dogs
The Farmer's Dog: Fresh and Healthy Food for Your Dog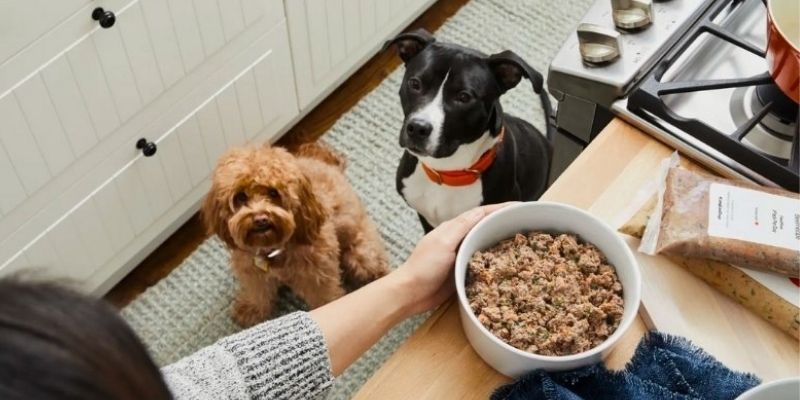 Before dry food was invented, dogs were usually fed leftovers. Today, the reality is quite different. The standard is to provide dogs with kibble that contains all the nutrients they need to ensure healthy growth and a balanced diet.
However, many owners have trouble with these kibbles because they are not usually very transparent. For example, when you see kibbles, would you be able to tell what ingredients they contain? In addition, they are very industrialized, and this does not appeal to owners who want to feed their dogs healthily.
This is where fresh food brands like The Farmer's Dog come in. In recent years, this American company has tried to reinvent how we feed our dogs. Their goal is to give them real food that looks like our food and not kibbles.
Here's what one of their recipes looks like:
In addition to worrying about our dogs' health, The Farmer's Dog also seeks to make life easier for their customers by delivering all meals to their homes and customizing their dog's menu through a questionnaire on their website. The user only has to answer a few questions on the form that will help The Farmer's Dog define the amount of food the dog will need, the recipes he might be allergic to, and other details such as the name that will be displayed on the packaging. Owners can then choose which menus they want to receive each month.
The Farmer's Dog also emphasizes that veterinarians design their recipes, meet industry standards, and are prepared in safe environments.
The packaging is also interesting as it is very different from traditional dog food packaging. This one is transparent, and the dog's name is written on it, giving the customer an even more personalized impression.
Key takeaways:
The Farmer's Dog manages to reinvent the dog food market by offering a fresh alternative to traditional dog food
They control their distribution chain and sell their food exclusively on their website to reduce their costs and avoid distributor margins
They offer a packaging that can be customized
The brand wants to make the owner's life easier by delivering food at home, offering pre-prepared portions, and improving the dogs' health
If you want to know more about this type of food, here's a detailed article about the different fresh dog food delivery brands.
Royal Canin: A Product for Each Medical Condition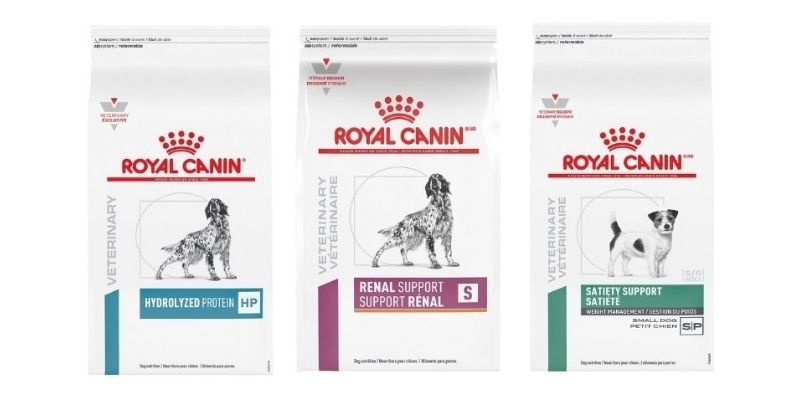 Royal Canin is one of the most famous dog food brands. Their classic kibbles are quite generic and target dogs by size or breed, which is fairly common in the industry.
However, Royal Canin also has a whole range of kibbles that target a variety of dog health issues. For example, does your dog have gastrointestinal deficiencies? Then Royal Canin Veterinary Diet Gastrointestinal dry dog food is the best choice. Does he have kidney issues? Then, you can choose their Diet Renal Support D dog food.
Here are some common health issues that are treated by their kibble:
Gastrointestinal
Urinary, Hepatic
Renal Support
Overweight
The packaging design is white and simple, with black and white dog drawings. This simplistic touch immediately gives us the impression that this dog food is more serious than traditional kibbles and the white color also reminds us of a veterinarian's office or hospital.
Furthermore, Royal Canin works closely with many veterinarians, and its products are often very present in veterinarians' offices. For example, this is what I saw the other day while walking down the street:
Royal Canin has therefore created a range of kibbles entirely dedicated to the health issues of certain dogs. With specific recipes, a simple design that inspires trust, and a partnership with many veterinarians, the brand has established itself as a leader in this dog food market niche.
Key takeaways:
Royal Canin is targeting a rather specific niche by selling products that aim to solve specific health issues
The company takes advantage of its expertise, its white and straightforward packaging, and its partnerships with veterinarians to become a trusted brand
Lily's Kitchen: Quality Food and Brand Identity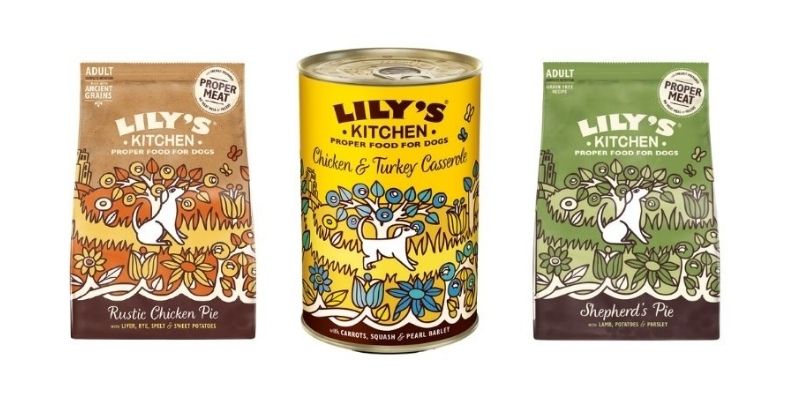 Lily's Kitchen is a pet food brand from the UK that has chosen a different approach as it relies strongly on its visual identity.
Like Taste of the Wild, Lily's Kitchen's target market is defined by dog owners that look for qualitative, organic, and natural food for their pets. However, on the packaging of their products, you won't see cute dogs or meat, fruit, and vegetables.
Instead, Lily's Kitchen has created a strong brand identity, and all their products contain their own black and white illustrations of dogs surrounded by flowers and other pretty colorful graphics. Lily's Kitchen products are very eye-catching and immediately convey a cute vibe.
In addition, to satisfy its target market, the brand emphasizes the quality of its products, its natural and organic aspects, and the absence of gluten to promote better digestion.
Key takeaways:
Lily's Kitchen has decided to focus a large part of its strategy on its brand visual identity and packaging
The brand has built an eye-catching brand identity that allows it to be immediately recognized by the consumer and transmits positive vibes
It also emphasizes the quality and organic nature of its dog food to sell a modern and sustainable product
Bug Bakes: Sustainable Dog Food Made With Insect Protein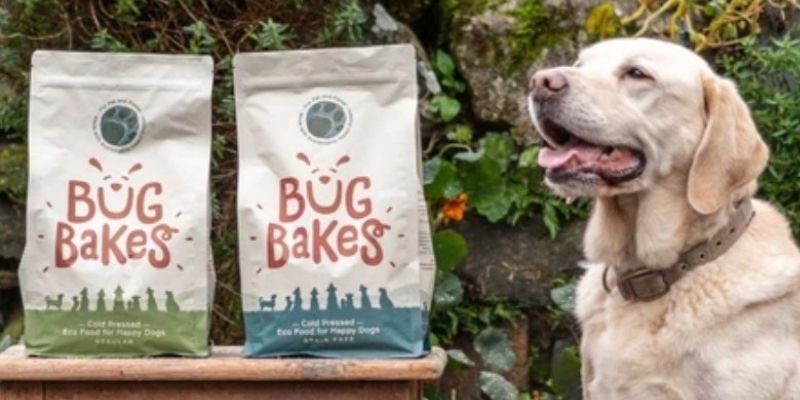 Bug Bakes is a brand that has a unique concept.
Feeding our dogs a complete diet is essential, but have you ever thought about the environmental impact of this food and the carbon footprint of a dog?
After all, to produce dog food, you have to raise animals that produce a lot of CO2, such as pigs, calves, chickens, and sometimes even buffalos. Many dog owners are concerned about the environmental impact of their animal, and that's where Bug Bakes comes in and offers them a much more eco-friendly alternative: insects as the only animal protein of the kibble.
Indeed, insects are a great source of protein, and Bug Bakes' dog food is regarded as complete and approved by veterinarians.
The brand also emphasizes its eco-friendly side by manufacturing plastic-free packaging and promoting a circular economy. This different concept stands out from the traditional brands and offers good quality kibbles that are a sustainable alternative to anything else on the market.
Key takeaways:
Bug Bakes differentiates itself by offering a solution to the environmental problems caused by the dog food industry
Targeting a small niche but has excellent potential in the future
Promoting circular economy and uses eco-friendly packaging
Conclusion
The dog food market is becoming more saturated, and the number of brands is growing every year.
However, consumer needs are also changing, and many brands have responded to this by offering more niche products and fully meeting their target market's requirements.
Some of them prioritize sustainability, others, medical conditions of specific dogs, and others, the quality of their food.
The examples in this article have also shown that packaging plays an essential role in the brand's identity and the message it seeks to convey.
These factors allow small brands to enter a market where numerous companies have been present for many years and benefit from their popularity to maintain their position.