#Manatees #Died #Florida #Year #Starvation #Concerns #Continue

At least 800 manatees died in Florida last year, reflecting the ongoing struggle the gentle giants face as the seagrass meadows they graze on disappear.
The Florida Fish and Wildlife Conservation Commission released preliminary statistics that show the devastating loss in manatee populations, mainly due to chornic starvation and incidents with boats. The death toll comes despite dramatic efforts to feed manatees lettuce last year to help them survive through winter.
"Mortality from starvation and chronic malnutrition was the leading cause of death during the cooler first three months of the year," the commission said in a statement. "Since April, watercraft-related mortality was the most common cause accounting for almost half of all known causes statewide. Similarly, these two causes were also leading among live rescued manatees."
That figure is down from a record 1,100 manatees that died in 2021, a statistic linked to the loss of the seagrass meadows. Those meadows are vulnerable to water pollution and runoff, and have declined dramatically in Florida's Indian River Lagoon, a key manatee habitat.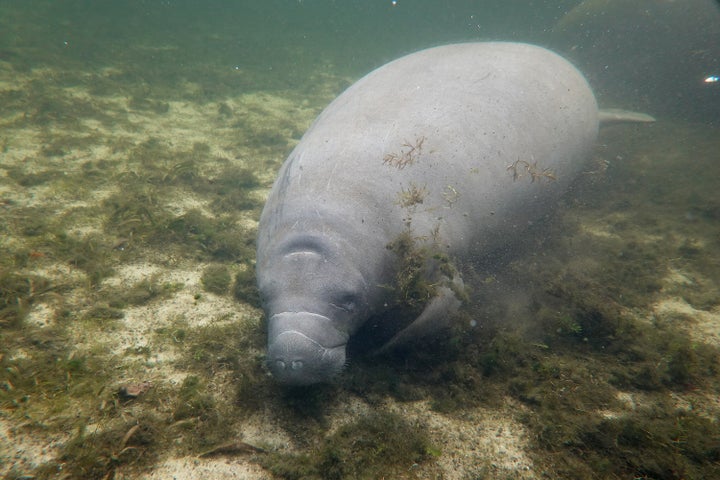 The Tampa Bay Times added that a relatively warmer winter and a less intense red tide may have prevented more manatee casualties, but conservationists are concerned the sea cow populations could continue to fall. Dozens are in rehab facilities due to starvation, and wildlife workers are preparing to support the creatures for the next few months.
Manatees eat about 10% of their body weight a day, and Florida wildlife officials have once again begun feeding manatees thousands of pounds of lettuce to keep them healthy through the winter. Florida Gov. Ron DeSantis (R) this week said the state planned to spend $100 million to help improve water quality in the Indian River Lagoon, but conservationists are concerned the animals could go extinct in parts of Florida without dramatic action.
Environmental groups are campaigning to see the manatee once against listed as an endangered species, which would prompt greater federal conservation efforts in a bid to save them. The Center for Biological Diversity filed a petition alongside other groups with the U.S. Fish and Wildlife Service in November, saying it was a mistake to remove the manatee from the endangered list in 2017.
"Existing regulations do not adequately protect manatees," the group wrote. "The best available scientific information demonstrates that, since the manatee was downlisted to threatened in 2017, it has become more imperiled and will continue to be adversely impacted by increasing natural and man-made threats."
There are an estimated 7,000 to 8,000 manatees in Florida.