#Florida #School #District #Bans #Book #SameSex #Penguin #Couple #Report

In a particularly bird-brained political move, a Florida school district has reportedly banned books about an actual same-sex penguin couple from classrooms and school libraries.
The award-winning 2005 children's book "And Tango Makes Three" features a real-life male chinstrap penguin couple — Roy and Silo — that built a nest together at the zoo in New York's Central Park. The birds ended up "adopting" an orphan penguin chick (Tango) and raising it as their own. (Other same-sex penguin couples have since been discovered in other zoos.)
Yet Florida's Lake County School District has reportedly determined that such facts are forbidden to young children under the state's so-called "Don't Say Gay" law engineered by Florida Gov. Ron DeSantis (R), the independent journalism site Popular Information reported Thursday. The law essentially bars discussion of sexual orientation or gender identity in Florida schools through third grade.
Popular Information found the district's list of forbidden books in public records obtained through the Florida Freedom to Read Project. The district claimed the book, by authors Justin Richardson and Peter Parnell, was one of the books it "administratively removed" to comply with DeSantis' law.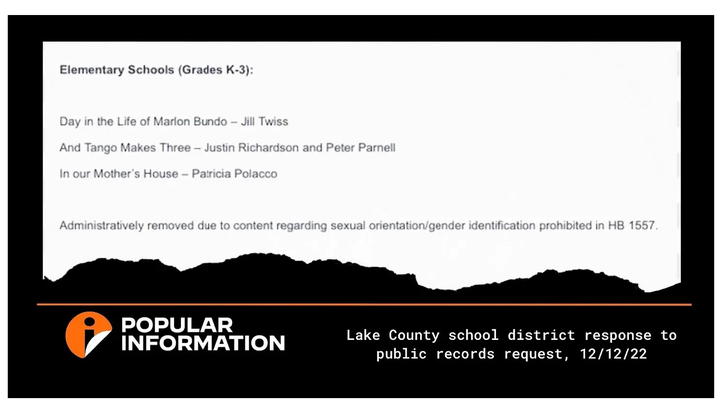 Free speech organization PEN reported last year that Florida's Collier County School District attached warning labels to the descriptions of over 100 books — including "And Tango Makes Three" — listed on the district's online library catalog. Physical labels were also attached to hard copies of the books.
The ultra-conservative Florida Citizens Alliance lists "Tango" among books that it inaccurately insists contain "indecent and offensive material" in its 2021 report "Porn in Schools." (The book contains no explicitly sexual material.) Critics complain that books on these lists are almost always automatically banned in Florida because school district leaders don't want the headache of dealing with an organized band of book-banning zealots, The New York Times reported last month.
"Tango" is often a target of book banners. In 2015, The Daily Express named it on its list of surprising banned books — which also included "The Adventures of Huckleberry Finn" and "Where's Waldo." The newspaper called "Tango" a "delightful kiddies' tale of two penguins who fall in love and adopt a baby" that "doesn't exactly scream out controversy."
At least 50 groups across the nation are working to ban an increasing number of books from school libraries, according to a PEN report.
HuffPost could not immediately reach Lake County Schools for comment.