#Microsoft #rolls #ChatGPTenabled #version #Bing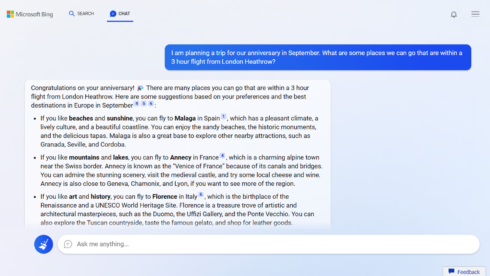 While it has been speculated for a few weeks that Microsoft had plans to integrate ChatGPT into its search engine Bing, the company has finally made it official.
This comes shortly after the company had made a large multi-billion dollar investment in OpenAI, the company behind ChatGPT. Search rival Google also just announced its own conversation AI service called Bard that it plans to integrate into Google Search. 
Microsoft says that integrating ChatGPT into Bing will help provide better search results, more complete answers, a new chat experience, and the ability to generate content. 
According to a blog post written by Yusuf Mehdi, corporate vice president and consumer chief marketing officer at Microsoft, 10 billion searches are made per day, with roughly half of them going unanswered because the questions are too complex. 
Search powered by ChatGPT will surface relevant information like sports scores, stock prices, and weather, and summarizes search results to provide comprehensive answers to complex queries too. For example, you would be able to ask how to substitute eggs in a recipe and get instructions on how to do so without actually having to search through multiple results yourself. 
Just like with ChatGPT, you can also converse with Bing in a new chat experience that allows you to keep refining your search until you are able to get the result you need. 
Content generation capabilities will help you with things like writing emails, creating an itinerary for a vacation, or prepare for a job interview. 
ChatGPT is also being incorporated into Microsoft Edge itself, with two new capabilities available now. The first is the ability to ask for a summary of information on a page, with key takeaways. The example the company gave is summarizing a long financial report and then using the chat function to ask for a comparison with another company's financials. 
In addition to ChatGPT, the new Bing is also being powered by the Microsoft Prometheus model, which is a proprietary was of interacting with OpenAI's language models; the application of the model to the core search algorithm itself, and a new user experience that reimagines how one interacts with search, browser, and chat.
To address concerns around ethical AI, the company also stated that it has been working with OpenAI to develop safeguards to protect users from harmful content. 
"Our teams are working to address issues such as misinformation and disinformation, content blocking, data safety and preventing the promotion of harmful or discriminatory content in line with our AI principles. The work we are doing with OpenAI builds on our company's yearslong effort to ensure that our AI systems are responsible by design. We will continue to apply the full strength of our responsible AI ecosystem – including researchers, engineers and policy experts – to develop new approaches to mitigate risk," Mehdi wrote. 
Currently the ChatGPT-enabled Bing can be tested as a limited preview on desktop. There is currently a waitlist to join, but Microsoft plans to scale it up to millions of users in the next few weeks. They are also working to add a mobile preview.